FreshKon Mosaic – Charming Brown
Just one look is all it takes to captivate your beholders, when your beautiful eyes are enhanced with the rich yet natural colors of FreshKon® Mosaic cosmetic lenses.
Featuring POINTILLA™, a unique hyper real-pattern which gives you that fashionable and natural look. FreshKon® Mosaic boasts a superior design that offers excellent comfort and easy wear.

Natural Look
-Unique hyper-real pattern (POINTILLA™)

-Defined outline for natural, elegant impression

Superior Comfort
-Hydrophilic (water-loving) surface for comfortable wear
-Superior wettability for daily wear
-Easy to fit with no curling lens problem

Excellent Vision
Large optical zone for clear vision

Oxygen Permeability Efficacy
Strategic dispersion of micro-colorants does not compromise on the oxygen permeability
Benefit: Optimum oxygen flows through the cosmetic lenses, allowing for healthy and beautiful eyes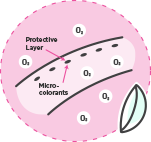 Hydro Micro-Insulation Technology
Micro-colorants are locked and insulated, isolated from your eyes
Benefit: Superior wearing comfort & lens performance
Pack Size

Material

Center Thickness

Diameter

Base curve

Power Range

-0.00D (plano)
-0.50D to -6.00D (0.25 steps)
-6.50D to -10.00D (0.50 steps)